Back to blog
Ghosts of the Land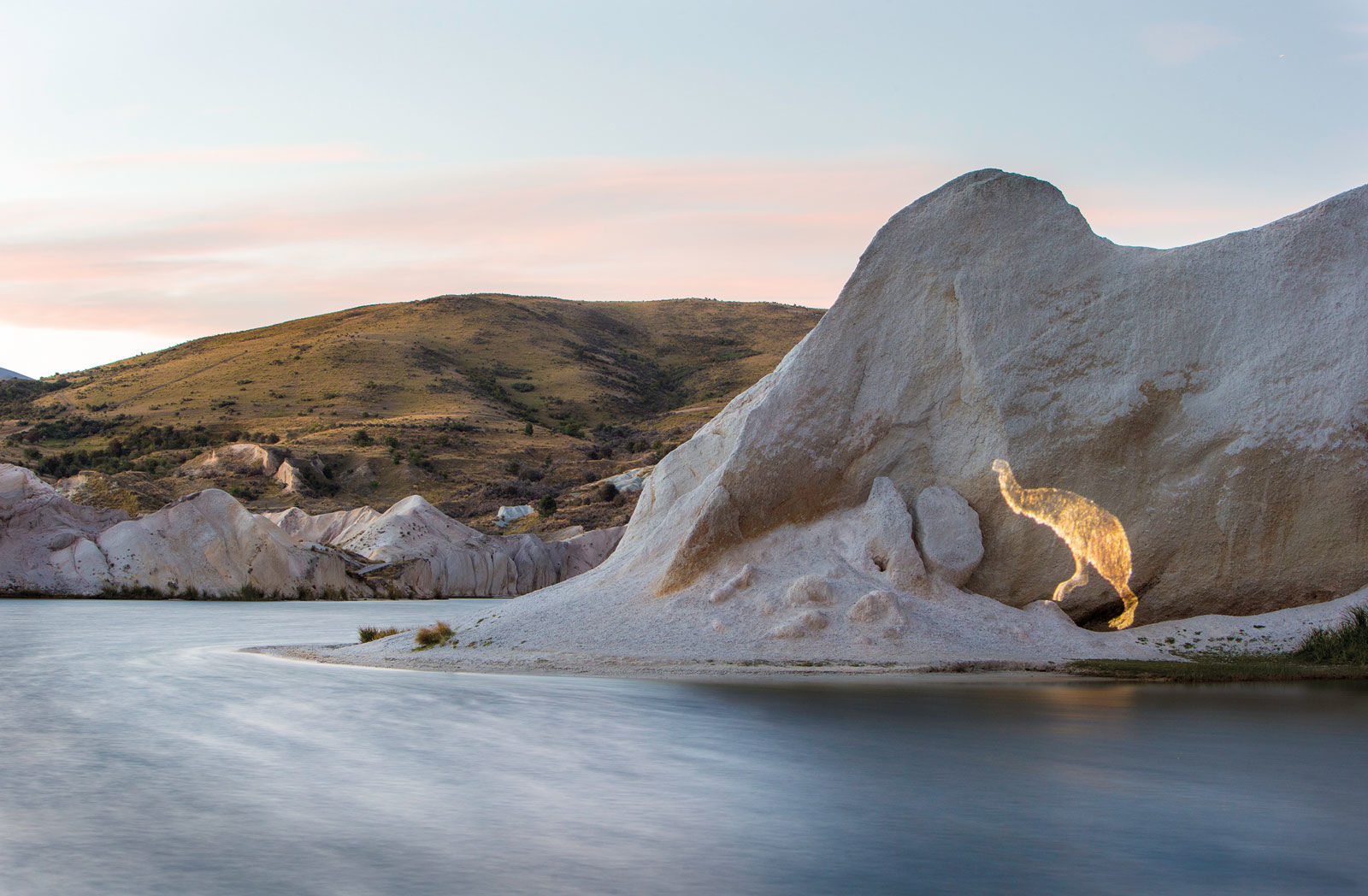 It started at Purakaunui Bay in the Catlins, over a couple of beers. Vaughan Brookfield's friend Tom Lynch had just ordered a high-powered new projector for his event production company, and they started wondering out loud what they could do with it outside the remit of their jobs — Brookfield shooting advertising and Lynch bringing concerts and conferences to life. Maybe they could make a new kind of landscape art. Maybe they could transform surfaces with light. And since no one else would be there to witness it, maybe they could document it with photographs.
A week later, they were lugging the brand-new 14,000 lumen, $25,000 projector up the Shotover River, along with a generator, laptops and camera gear. It turned out that projecting light on distant landforms was a lot more difficult to execute than to talk about. If the surface wasn't flat, then the image needed to be mapped to it; only the brightest colours were visible when projected onto the landscape; and the window for photographing the whole thing was slim.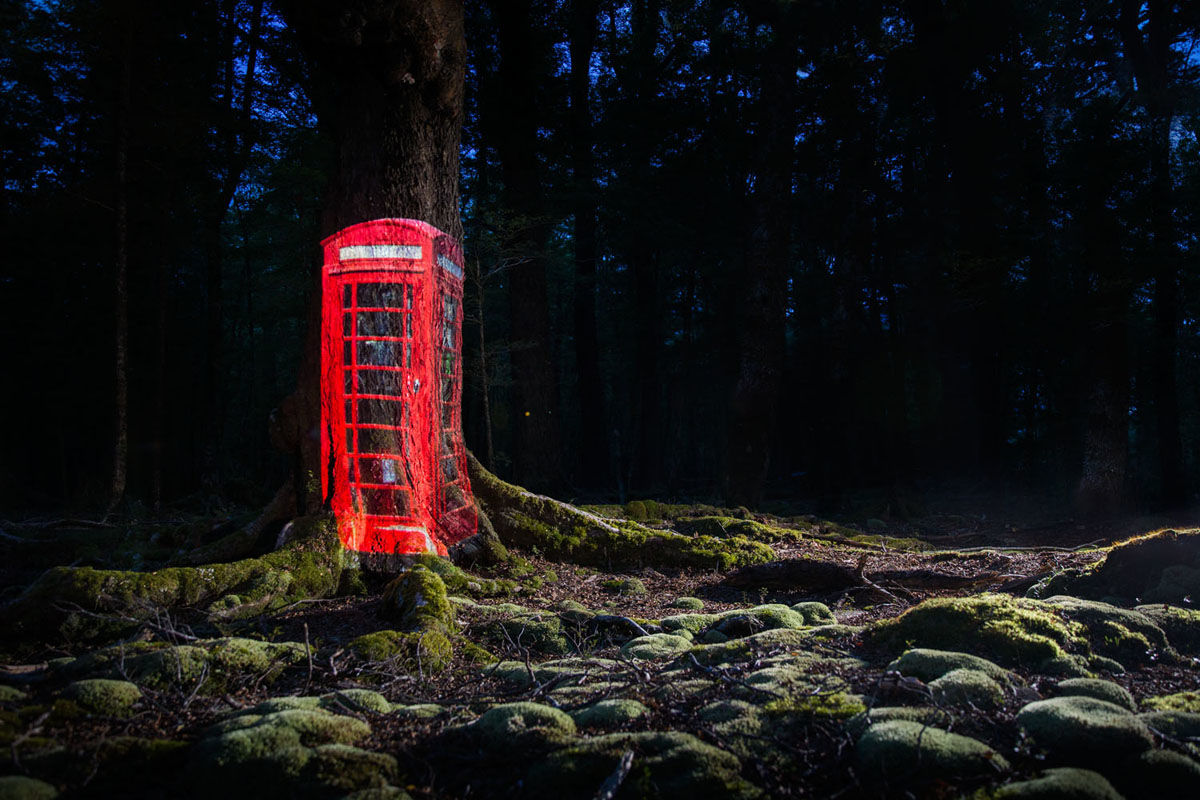 Brookfield discovered he needed just enough daylight to illuminate the surrounding landscape, but the ambient light also needed to be dim enough for the fine lines of the projected image to shine clearly. "For me to match the surrounding natural light with the projected light, we've only got about a 20-minute window to get a good match. Some imagery I've lit it up some of the landscape with strobes, too, but the majority of the time I'm trying to use the natural light of the surroundings."
It took a while for Brookfield and Lynch to figure out which types of location and projection were successful. "We probably had about four shoots before we felt that we got something that was working," says Brookfield. "Some things just don't project well. Getting the gear set up and out there can be very challenging. The projector takes two to three minutes to warm up, and sometimes we have an issue with it and warm it down again, and then it's very easy to miss the window. It's just a mad rush for the 20 minutes when we're shooting."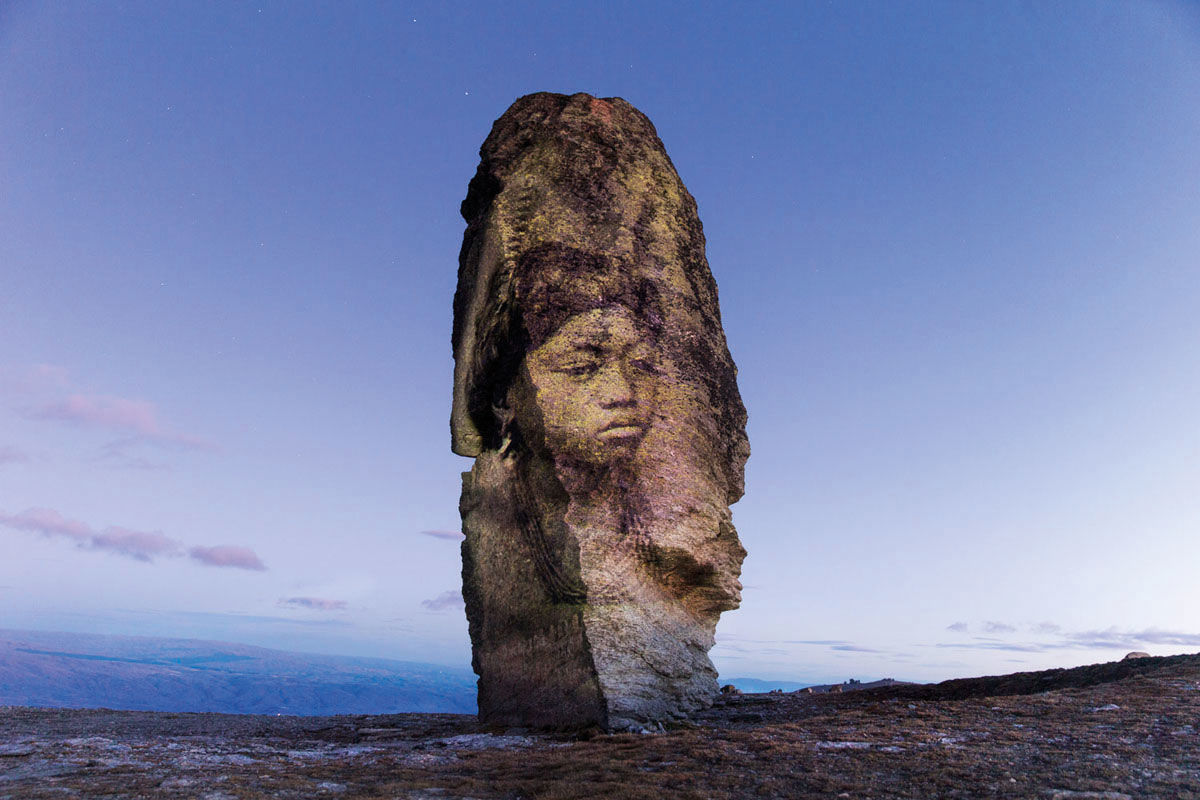 From the outset, Brookfield and Lynch wanted their projections to reference the heritage of the places they were shooting in, so many of their projections use imagery from the past. "Since we're shooting in the New Zealand landscape, we want to relate things to the history of the area," says Brookfield.
Finding locations has been relatively simple — Brookfield's work takes him around the region, and tip-offs from a location-scout friend have also proved fruitful. The Blue Lake at St Bathans offers a sheer cliff faces for glowing moa to walk across. A tree at the southwest end of Lake Sylvan, in the Mt Aspiring National Park, becomes a London telephone booth. A ghostly hand emerges from the Wishbone Falls near Wanaka, while the field of schist tors — giant stone obelisks — in the Kopuwai Conservation Area is ideal for projecting faces onto.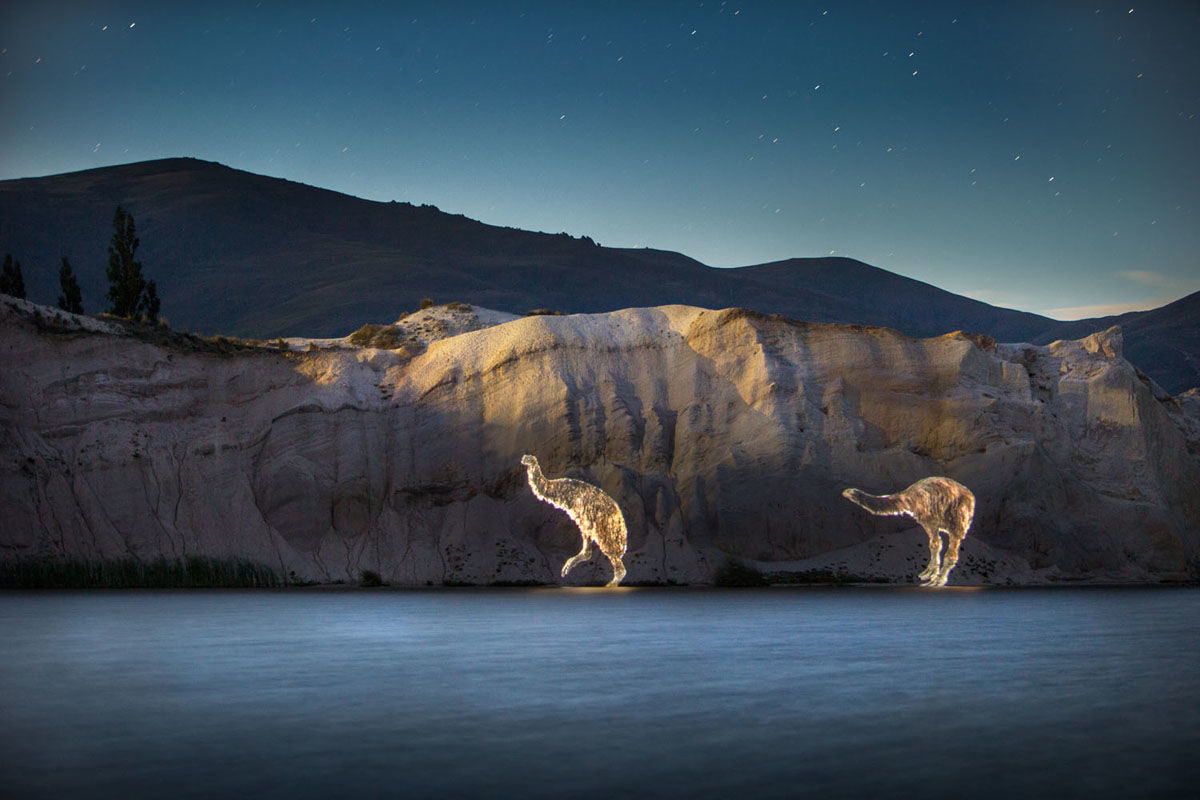 Brookfield has been shooting in Otago since 2006, when he'd cover the ski season for editorial clients before jetting off to the northern hemisphere winter to do the same thing. Now he's based in Queenstown full-time, and his client base has shifted from editorial to advertising. "All my work is pretty much location-based, so I spend a lot of time outdoors," he says.
The next step is to create moving-image projections, says Brookfield — although that's a little way off still. "It's hugely time-consuming for a personal project," he laughs. "We're just at a testing stage still. But we want to do something even more different."
If you'd like to see more of Vaughan Brookfield's work head over to his website: vaughanbrookfield.com